Scottish Castles Photo Library
- Fort George, Inverness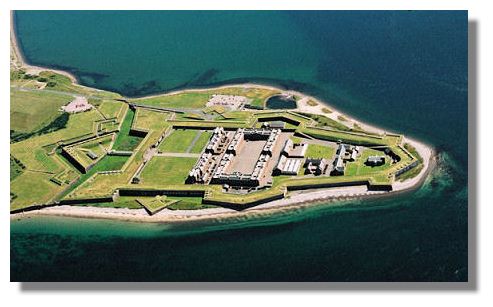 Graphics copyright © Scotavia Images
Fort George was built on a barren spit of land jutting out into the Moray Firth, north-east of Inverness. It is the largest artillery fortification in Britain and was created after the Jacobite Uprising in 1745, when Prince Charles Edward Stuart nearly toppled the Hanoverian King George II. Determined that such a revolt should never succeed in the future, the mighty Fort George, with an elaborate bastion defence almost a mile around, was created. It encloses an area of 42 acres - the parade ground a lone could accommodate the entire area of Edinburgh Castle! The buildings within its defensive walls could house 1,600 infantry and an artillery unit, as well as all the stores and ammunition required by such a large force.

Due to a lack of skilled local labour, most of the construction workers were from the Lowlands and almost all the building material had to be brought to the site by sea. It was the biggest construction project to date in the Highlands

Costing £200,000 (the equivalent of a billion pounds today), a figure that was higher than Scotland's annual Gross National Product at the time, the fortification took 21 years to complete. Fort George has never seen a shot fired in anger. It was used as a staging post for the growing number of Highlanders recruited into the British Army and in 1881 became the depot of the Seaforth Highlanders (that's their crest illustrated here), a role it maintained until 1964. In 1815 it was considered as a possible prison for Napoleon - but St Helena was considered safer.

Fort George was opened to the public as an Ancient Monument in 1964 but soldiers of the Royal Highland Fusiliers returned to use it as a base. Although still a tourist attraction Fort George continues in its role as an army barracks, the only Ancient Monument in Scotland that still functions as originally intended.


Note: The aerial photo of Fort George on this page is copyright Scotavia Images who provide a quality aerial photography service for Scotland. Prints from their large online gallery are available for purchase. If you have ancestors with a Scottish Highland origin, they can provide an aerial view of the area they came from!

Return to the Castles Photo Library Index>
or go to the next castle: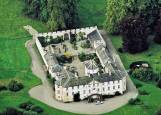 Foulis Castle.


---
Where else would you like to go in Scotland?


Where else would you like to go in Scotland?