Scottish Castles Photo Library
- Dunure Castle, Ayrshire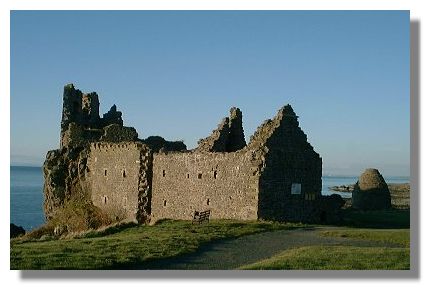 Overlooking the sea from the coast of Ayrshire, Dunure Castle is the ancient seat of the Kennedys of Carrick, later the Earls of Cassilis. The original 13th century tower was later extended and altered. In the middle of the 17th century the castle appears to have been set on fire and blown up and by the end of the century it had been abandoned.

In 1570, Allan Stewart, Commendator of Crossraguel Abbey was roasted over a spit by the Earl of Cassilis to persuade him to sign over abbey lands. Kennedy of Bargany, no friend of Cassilis, stormed the castle and rescued the Commendator - who survived and lived to an old age. He was paid a pension by Cassilis - but the land was not returned. Ghostly cries have been reported in the chamber where the torture took place.

The well-preserved dovecot probably dates from the 15th century.
Return to the Castles Photo Library Index>
or go to the next castle:

Dunvegan Castle.


---
Where else would you like to go in Scotland?


Where else would you like to go in Scotland?