Scottish Castles Photo Library
- Crookston Castle, Glasgow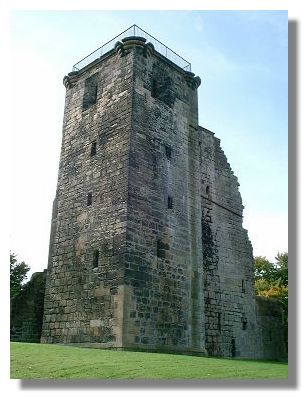 In the 12th century, the estate in this area belonged to a Robert de Croc (hence Crookston). The castle probably dates from the 14th century and was held for several centuries by the Stewarts of Darnley. At one time the castle was unique in having a tower at each corner (the picture shows the only one which survives). The Stewart family was involved in a rebellion against King James IV in 1489. The king bombarded the castle using Mons Meg, causing considerable damage.

Mary Queen of Scots and her husband, Lord Darnley (who owned it at that time) may have stayed there and they may even have been betrothed in the castle.

In 1757 the castle (by now a ruin) passed to the local Maxwells of Pollok. It was rescued from total demolition in 1847 and partly restored (rather crudely) to commemorate the visit of Queen Victoria to Glasgow. It was the first property to be gifted to the National Trust for Scotland but is now looked after by the government agency Historic Scotland.

There are not many ruined castles still visible in Glasgow. It is surrounded these days by a council housing estate though its hilltop position means that it has grassland around it.

Return to the Castles Photo Library Index>
or go to the next castle:

Culcreuch Castle.


---
Where else would you like to go in Scotland?


Where else would you like to go in Scotland?