Scottish Castles Photo Library
- Crathes Castle, Aberdeenshire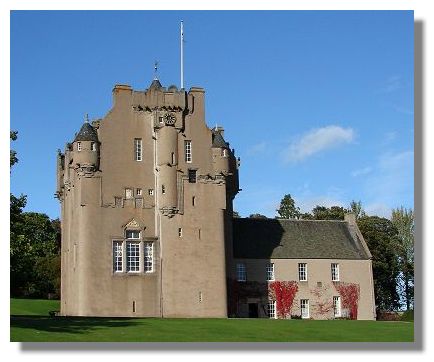 When King David I acceded to the Scottish throne in 1107, after a 30-year stay at the court of King of England, he took a number of mainly Norman nobles with him to Scotland including Bruce, Balliol and FitzAlan (who later became the Stewart kings). The Burnards (later Burnetts) were among this band of adventurers and they settled in what is now Aberdeenshire, near the river Dee. Alexander Burnard was a supporter of Robert the Bruce who rewarded him with an estate at Banchory and the post of Royal Forester of Drum. Legend says that his badge of office was a beautifully carved and decorated "Horn of Leys" which hangs to this day in the castle (and is represented in the standard that flies from the castle flagpole).

The Burnetts grew wealthier as the years went by and a new castle at Crathes was begun in the middle of the 16th century. But it took 40 years to complete. King James VI knighted Thomas Burnett and King Charles also made him a Baronet of Nova Scotia. During the Civil War, Burnett's near neighbour, the Marquess of Montrose "invited" Burnett to surrender - and the two old acquaintances subsequently dined in the great hall of the castle!

Having maintained neutrality in the Civil War of the 17th century, the Burnetts also refused to join the Jacobite Uprisings of both 1715 and 1745. Subsequent members of the family, however, served in the armed forces, including one who joined the army of Burgoyne and fought against Washington. One heir to the castle emigrated to California where he became a successful rancher. If he had not sold half the site of present-day Los Angeles before returning to settle at Crathes, the Burnetts could have been multi-billionaires today!

The 13th Baronet was a resident of New South Wales, Australia, when he inherited the title and in 1951 he made over the castle and part of the estate to the National Trust for Scotland. The Trust has made a fine job of maintaining the castle and the magnificent walled gardens (eight interconnected areas, overlooked by the castle). The castle is open to the public from April to the end of September while the walled gardens and the estate are open all year round.

Return to the Castles Photo Library Index>
or go to the next castle:

Craufurdland Castle.


---
Where else would you like to go in Scotland?


Where else would you like to go in Scotland?