Scottish Castles Photo Library
- Craigievar Castle, Aberdeenshire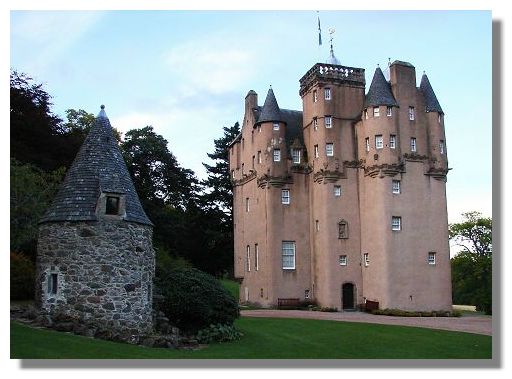 Although Craigievar Castle was built by William Forbes between 1610 and 1625/26, the family had owned the nearby estate of Corse for many years. Indeed, William could trace his ancestry back to James, 2nd Lord Forbes who died before 1462. At that time, however, Craigievar had been owned by the Mortimer family. William Forbes was a younger son of the family but he became a successful merchant involved in trading with the Baltic states and earned himself the nickname of "Danzig Willie." He married Margaret Woodward, a daughter of the Lord Provost of Edinburgh and it is their initials that decorate the castle.

As a merchant, William had travelled widely and his castle incorporated many elements of contemporary architecture from the continent. Craigievar was one of the first to use moulded plaster ceilings. The first of these were installed in Edinburgh Castle in a suite of rooms, which had been prepared in 1617 for a visit by King James VI (who had been firmly located in London ever since his accession as King James I of England in 1603). The plasterers involved in Edinburgh moved on to Kellie Castle in Fife, then Glamis in Aberdeenshire and then Craigievar.

William and Margaret's son (another William) was created a Baronet of Nova Scotia by King Charles I in 1630. Over the centuries the Forbes continued to own Craigievar. Some made their mark with alterations and improvements, others struggled financially. In the early 19th century, a northern range of buildings was largely cleared away, leaving only the corner turret (shown to the left of the picture above) and the main, turreted building. In 1884, the 8th Baronet succeeded to the title of 17th Lord Sempill. By that time, Queen Victoria had paid a visit to Craigievar, travelling the relatively short distance from her own castle at Balmoral, further up "Royal Deeside".

In the 1960s, Craigievar was gifted to the National Trust for Scotland. Visitors can now tour the magnificent hallway and the residential parts of the castle, full of period furniture, paintings and moulded ceilings.

Return to the Castles Photo Library Index>
or go to the next castle: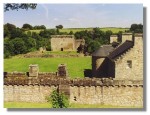 Craignethan Castle.


---
Where else would you like to go in Scotland?


Where else would you like to go in Scotland?