Scottish Castles Photo Library
- Corgarff Castle, Aberdeenshire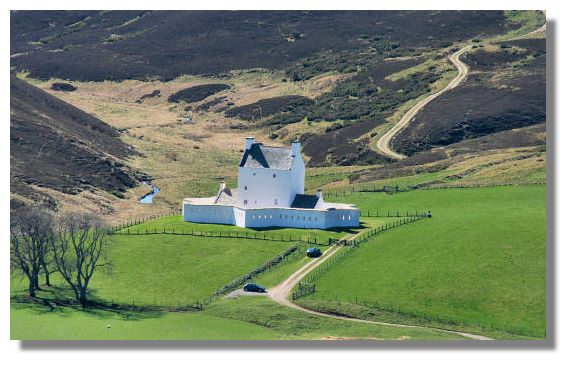 Photo copyright Scotavia Images
Corgarff Castle is located in Strathdon, in a wild and desolate part of Aberdeenshire, about ten miles north-west of Ballater. The original tower house was built by the Elphinstones around 1530 and then leased to the Forbes family, who were vassals of Lord Elphinstone. In 1571, however, Corgarff was torched by Adam Gordon of Auchindoun, ostensibly in support of Mary Queen of Scots (the Forbes family supported the government of the infant King James VI) - but there was a long-standing feud between the Forbes and the Gordons. Margaret Campbell, wife of Forbes of Towie and 26 others in the castle were killed. The Elphinstones took back the castle but the Forbes family still regarded it as "theirs". In 1607, Alexander Forbes and some Highland brigands captured the castle and used it as a base for a number of years. But 1626 the Erskine Earls of Mar acquired Corgarff. In 1645 it was used as a mustering point the Marquis of Montrose's campaign in support of King Charles I

The Jacobites burned the castle in 1689 in order to deny its use by government forces - and the Hanoverians did the same in 1716 as a punishment to the Earl of Mar for his part in the Uprising. "Bobbin Jock" (as the Earl was sometimes known because of his changing allegiances) had used the castle as a mustering point in support of the Jacobites. Corgarff was forfeited by Mar and the castle returned to Forbes ownership. But that didn't last long as the Forbes in turn forfeited the castle in 1746 as a consequence of their support for Charles Edward Stuart. Corgarff was used as an ammunition store during the winter of 1745-46 by the Jacobites as they retreated northwards. The redcoats surprised the garrison after marching through a blizzard and captured the arms, which did not help Bonnie Prince Charlie's army at Culloden a few months later.

In 1748, the government took over Corgarff as a barracks for soldiers and added more buildings and the distinctive star-shaped outworks. When the threat of another Jacobite Uprising receded and enforcing the ban on Gaelic, tartan, bagpipes and the carrying of arms by Highlanders was no longer enforced, the soldiers based there were used to try to suppress illicit whisky distilling.

The castle is now administered by Historic Scotland and is open to visitors.

Note
The photo of Corgarff Castle on this page is copyright Scotavia Images who provide a quality aerial photography service for Scotland. Prints from their large online gallery are available for purchase. If you have ancestors with a Scottish Highland origin, Scotavia can provide an aerial view of the area they came from!

Return to the Castles Photo Library Index>
or go to the next castle: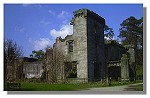 Craigend Castle.


---
Where else would you like to go in Scotland?


Where else would you like to go in Scotland?