Scottish Castles Photo Library
- Cawdor Castle, Nairn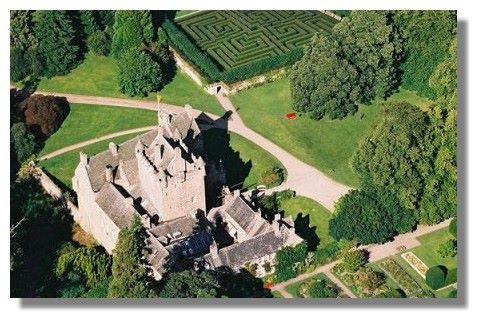 Graphic copyright © Scotavia Images
The 1st Thane of Cawdor (the name was originally Calder, but Cawdor is the way it is pronounced in the north-east) was granted the lands around Nairn by King Alexander II in 1296. There is a legend that the site of Cawdor Castle was chosen as a result of a dream by the 5th Thane. In 1454 he had been authorised by King James II to build a fortified castle. Prior to this date, the Thanes (who claimed to be descended from MacBeth) had been based in a royal stronghold in Nairn. The Thane's dream told him to load a chest of gold on the back of a donkey and turn it loose. He was then to follow the animal until it finally stopped - and to build his castle there. The Thane duly followed his dream - and after a long meander, the beast stopped beneath a hawthorn tree on rising ground above a bend of a burn, five miles south-west of Nairn. Cawdor castle was duly built there. Fanciful? Perhaps. But, uniquely, there is a long dead hawthorn tree in the basement of the castle, with branches disappearing up into the masonry above...

The Calders did not own the castle for long though. In 1499, the builder's son and successor died and left a four-year-old red-haired daughter named Muriella to inherit the castle. Heiresses are always rich prizes - and the Campbells in Argyll were well aware of the situation. The second Earl of Argyll sent Campbell of Inverliver and his seven sons across Scotland to bring her back to Innishonnel Castle (the seat of the Campbells before Inveraray). They carried her off - but her relatives gave chase. After a number of skirmishes, Campbell of Inverliver upturned a large cauldron (they didn't travel light in those days) and left his seven sons to guard it, while he slipped away with the heiress. Needless to say, the pursuers thought that Muriella was under the upturned cauldron - as the seven sons fought to the death, defending it. Too late, the Calders found that it was empty. Eleven years later Muriella married Sir John Campbell, 3rd son of the Earl of Argyll. Thus the Campbells still hold Cawdor Castle!

This magnificent and well-preserved castle is open to the public in the summer months.

Note: The photos of Cawdor Castle on this page are copyright Scotavia Images who provide a quality aerial photography service for Scotland. Prints from their large online gallery are available for purchase. If you have ancestors with a Scottish Highland origin, they can provide an aerial view of the area they came from!
Return to the Castles Photo Library Index>
or go to the next castle:

Clackmannan Tower, Clackmannan.


---
Where else would you like to go in Scotland?


Where else would you like to go in Scotland?