Records for the Caldwell estate near Uplawmoor in East Renfrewshire go back to 1294. Gilchrist More (or Mure) acquired the lands and castle of Caldwell through marriage to the heiress of Caldwell of that Ilk and the estate remained with the family until the late 17th century.

Caldwell Tower is all that remains of Caldwell Castle, which was probably built in the 16th century.

When King David II was taken prisoner at the battle of Neville's Cross in 1346, Sir William Mure of Caldwell was appointed as one of the twelve nobles who negotiated the terms for his release. A later William Mure was involved in the Pentland Rising by the Covenanters, which ended in defeat at the Battle of Rullion Green in 1666. He escaped and his estates were forfeited and given to William Dalziel of the Binns near Edinburgh - Sir Tam Dalziel had led the King's victorious army at Rullion Green.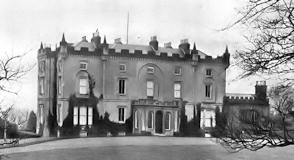 A new mansion house was built around 1712 by William Mure. However, the present Robert Adam designed Caldwell House was built by his son, William 'Baron Mure' about 200 yards lower down from the original. (Picture via Wikimedia.)
The castle fell into disrepair and only the tower (partially restored) survived. Despite its probable 16th century origin, it is referred to locally as a "folly".