Rampant Scotland Directory
Some Royal Bank Note Design
The Royal Bank of Scotland, founded in 1825, issues bank notes to the value of 1, 5, 10, 20 and 100 pounds. It is the only UK bank still with the low denomination one pound note in circulation - though it has been largely been superseded by the one pound coin issued by the Mint.
---



Royal Bank of Scotland One Pound Note (Front)

All the Royal Bank notes incorporate a portrait of Lord Ilay, the first Governor of the bank together with the bank's logo and coat of arms. The semi-circle of "stars" is a representation of the magnificent ceiling in the bank's head office in St Andrew Square, Edinburgh. Uniquely in the UK, the Royal Bank of Scotland continues to print and circulate £1 bank notes (Royal Mint coins are used more frequently these days).
---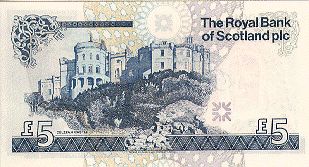 Royal Bank of Scotland Five Pound Note (Reverse)

The earlier series of Royal Bank notes illustrate Scottish castles on the reverse of the notes. This one is Culzean Castle. Situated on a cliff on the Ayrshire coast some eleven miles south of Ayr, it was formerly the seat of the Marquis of Ailsa. It is now one of the properties of the National Trust for Scotland and a well-known tourist attraction. The Eisenhower Suite at Culzean Castle was presented to Dwight D Eisenhower in recognition of his role as supreme Commander of the Allied Forces in World War II
---



Royal Bank of Scotland Ten Pound Note (Front)

As can be seen, the design of the front of the Royal bank notes is identical. apart from the change of colour. The reverse of the ten pound note shows Glamis Castle which was reputedly the scene of Macbeth's murder of King Malcolm II in 1031. It is the seat of the Earl of Strathmore, whose ancestors were Deputy Governors of the Royal Bank of Scotland in its early days. Her Majesty the Queen Mother spent her early years there and Princess Margaret was born in the castle, the last member of the Royal Family to be born in Scotland.
---



Royal Bank of Scotland One Hundred Pound Note (Reverse)

This is the highest denomination Royal Bank note in circulation. It illustrates Balmoral Castle, the royal residence in Deeside. Balmoral was built in 1853 to replace an existing building. It was a great favourite of Queen Victoria and has provided successive Royal Families with a suitable location in which to enjoy periods of rest, relaxation and, above all, privacy.

>

Home Page>

Next Page>


>
---
Where else would you like to go in Scotland?