Rampant Scotland Directory
Commemorative £5 bank note for the 125th Anniversary of Opening of Forth Road Bridge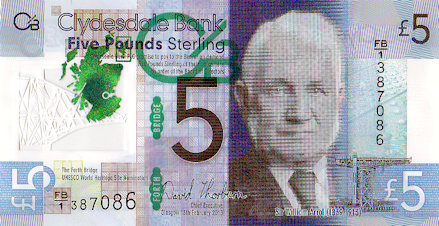 Commemorative £5 bank note for the 125th Anniversary of Opening of Forth Road Bridge (Front)


Entering circulation in March 2015, a year before the Bank of England puts plastic notes in general circulation, the Clydesdale banknote is the very first UK bank note to be printed using polymer (plastic) coating. It features the iconic Forth Rail Bridge and marked the 125th anniversary of its opening on 4 March 1890 by the Prince of Wales, the future King Edward VII. In addition to illustrating the bridge itself (now a UNESCO World Heritage Site) the bank note highlights its designrt Sir William Arrol whose company not only created the unique Forth Rail Bridge but was also responsible for Tower Bridge in London. The methods of working and techniques developed by the company are still used by engineers around the world today.

The polymer notes are produced from a thin plastic filmrather than paper. It can incorporate advanced security features - such as the transparent "window" area and a hologram of a map of Scotland with a "C" floating on it. Plastic notes are tougher to forge, more durable and collect less dirt and stay cleaner longer than paper money. The plastic notes should last at least two and a half times as long as current paper notes.

Clydesdale Banks new polymer note was short-listed for the International Bank Note Society Banknote of the Year award for 2015 (but lost out to a Bank of New Zealand 5 dollar note).
---







Commemorative £5 bank note for the 125th Anniversary of Opening of Forth Road Bridge (Reverse)

On the reverse of the note are a number of represenations of the Forth Rail Bridge. The bridge spans a total length of 8,296 feet across the estuary of the river Forth from South Queensferry in the south to Fife in the north. It was the longest single cantilever bridge span in the world until 1917 and is still the second longest ingle cantilever span. Prior to its construction ferry boats were used to cross the Firth for hundreds of years. The bridge was the first major structure in Britain to be constructed of steel - large amounts of steel had become available after the invention of the Bessemer process in 1855.
---

>

Home Page>

Next Page>


>
---
Where else would you like to go in Scotland?