Rampant Scotland Directory
Clydesdale Bank - Commemorative Bank Note for 700th Anniversary of Crowning of King Robert the Bruce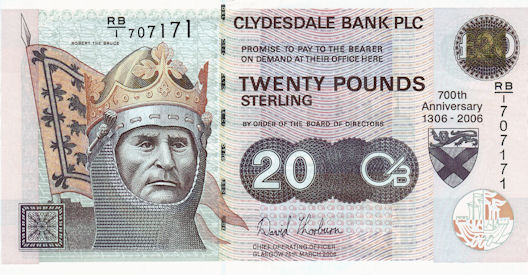 Commemorative Bank Note for 700th Anniversary of Crowning of King Robert the Bruce (Front)
When this bank note was first issued (on 25 March 2006) the normal Clydesdale Bank £20 note bore the head of King Robert the Bruce anyway. So it just needed the addition of the words "700th Anniversary, 1306-2006" and a shield. Oddly, the serial numbers begin with RB1707, presumably referring to Robert Bruce and the Union of the Parliaments in 1707.
---



Commemorative Bank Note for 700th Anniversary of Crowning of King Robert the Bruce (Reverse)

The reverse of this commemorative note bears the words "700th anniversary of the enthronement of Robert the Bruce as King of Scots, which took place at Scone Palace on 25 March 1306. In addition to representation of Bruce on a war horse in front of Stirling Castle and a seal, there is a representation of the "Monymusk Reliquary", a small 8th century wooden box covered in bronze and silver plates said to contain a bone relic of St Columba. It was kept available to bless the royal army before battle - and was used to good effect in this way before the Battle of Bannockburn in 1314.
---

>

Home Page>

Next Page>


>
---
Where else would you like to go in Scotland?