A Timeline of Scottish History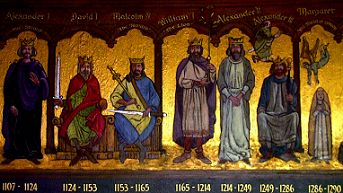 Scottish Monarchs from Alexander I to Margaret, Maid of Norway
Structure of the Timeline
This Timeline contains over 700 precisely dated events from Scottish history of the last 2,000 years. Wherever possible, links have been provided to other Web sites where you can learn more about the events and the people that have made Scotland what it is today. The events have been organised into two sets of data - a chronological sequence and also the events which have occured in particular calendar months - "This Day in January" etc.

Chronology

This Day in...
---
Where else would you like to go in Scotland?