Recent Fan Mail
Moira is always glad to receive feed-back from her fans. The most convenient way of contacting Moira is by e-mail.
After performing at a gig in Brechin Cathedral Moira received this comment from the organiser:
Just to say thanks again to you, Frank and Dave for the wonderful performance that you gave us last night,it was greatly appreciated.

We hope that you all enjoyed your visit to the cathedral, and traveled home safely.
Here is an example of a recent e-mail from someone from "down under" who has written about how much she has enjoyed listening to Moira's songs on a special occasion:
Hello Moira,
Or should I say G'Day ?
I live in a small country town in Victoria Australia. I have just been introduced to your music and I wanted to let you know how much I have enjoyed the selection which I have heard so far.
The person responsible for introducing me to your music is my cousin, who has just been down here for a very special 3-weeks visit. This visit came after 51 years separation and turned out to be a thoroughly magical time. Many of the special moments we shared were accompanied by your music.
As the designated driver, my cousin chose the music to listen to as we did some sight seeing. By the time we had travelled 1,500 kms I knew nearly all of the lyrics to the songs on your "Glen Of Weeping" Album.
Despite my cousin's urgings over the years I have never been to Scotland, but after listening to your music, where your ongoing passion for your land and its history is so obvious I can't wait to visit. Your ability to paint such lyrical landscapes have been an inspiration to me. I now want to pack up my easel and paints and try to capture some of the beauty on canvas. Thank you for your inspiration
I have also enjoyed browsing your new Web Page and noticed that you sing some Jazz. As a Jazz lover I am interested to know if you have recorded any numbers, and if so I am interested to know if you have any albums which include any old favourites.
I wish you continuing success in your art you certainly have a wonderful gift which is bringing so much joy to the world.

Here's a comment from a listener who heard Moira singing over ten years ago:
I just wanted to say thank you for signing the above CD that I bought from you recently. I've had the lyric "Tiree, the most beautiful of all" going round in my head since I visited a gift shop at Loch Ness where your CD was playing in 1999 and I finally decided to do something about it! You have a beautiful voice and the songs are so atmospheric. Thanks again - it made my day!
And here is an e-mail to the Fan Club secretary from a lady who lives in England who also enjoyed listening to Moira while touring in Scotland:
We have recently returned from a trip to Skye and the Northwest coast of Scotland and we fell in love with the wonderful scenery and get away from it all peace of the place. We travelled around listening to Moira's CD 'McIan of Glencoe'. My favourite is 'Dark Island' which takes me back to those empty beaches and wonderful sunsets. But I would just like Moira to know that until I heard her sing Loch Lomond it was just an ordinary song. I have never heard it sung so beautifully and it moves me to tears.
Here is an e-mail from an admirer who lives in Stratford-upon-Avon, the birthplace of William Shakespeare:
I am from Stratford-upon-Avon, and I have been a fan of your music for some years now. I have been a great fan of Scotland and its history as well for some years. My grandmother was Scottish and I love everything about it, the landscape, the history of the clans, the music, the poetry written etc. I sing at local Burns Suppers and Ceilidhs. My favourite songs of yours have to be for me - Loch Lomond Hills, Arran the Island I love, and MacIain of Glencoe. You have a really fantastic way with music and words and your voice is great. I think it is marvellous that people are able to send communication to you via email to let you know how much they appreciate your music and the website. I have never been able to see you in concert yet, but I am hoping to get along to the Scottish Tattoo in Birmingham. Keep up the wonderful work you do, I think you are fantastic.
A lady from Taiwan wrote to ask if Moira could supply the lyrics for "MacIain of Glencoe":
I bought this album and another one many years ago, but this one touched me the most, even many, many years later I still love it so much. Especially the song of MacIain of Glencoe, every time I heard it I felt very sad in my deep heart. I don't know why, because I don't have the lyrics of those songs and my listening comprehension is not good enough to understand what the song's meaning. Recently I tried to find out the lyrics of this song on the internet and found out the song's background. It's a really unfortunate story which happened over 300 years ago. Maybe that's the reason I felt so sad when I listened to this song.

I have to say that you have beautiful and emotional voice, and I believe that touches a lot of listeners.
The words of "MacIain of Glencoe" can be found here.
A couple from Yorkshire have found that "Misty Moo" is a great way of keeping children quiet on long car journeys! They were so impressed they sent their impression of the "Hacienda in the Highlands" which is featured on the CD:
When our family were here with us for half-term holidays recently, our 9 years old granddaughter, who in common with most of her contemporaries is quite sophisticated and 'worldly wise', spent every evening listening to the tape, and by the end of the visit, virtually knew the words of all the songs.

We also sent the tape, with your good wishes to the three little girls in Derbyshire. I quote from a letter their father sent yesterday, telling us of a holiday they had in Devon, which included an arduous 6 hour car journey. (You know about arduous car journeys of course).

'Misty Moo and Friends' saved the day. Allowing for some language differences, but with wonderful Scottish accents, we all thank you both and Moira for the gift you gave us. Please pass on very positive feedback to Moira about our real road test. This was real entertainment!'

Those who have heard the tape thus far, rate it extremely highly and that for the most part, from Angles. We believe that you have a potentially big hit on your hands. A book and tape would be very popular we are sure. Perhaps next year?

Meanwhile Moira, keep up the good work and haste ye back - we lo'e ye dearly!
The mother of two Misty Moo fans wrote:
My kids got your CD last Christmas and we know it off by heart! Please do Misty 2!
And here is an e-mail from an admirer in Holland:
Hi Moira.
Your music is great.
I live in Holland and I visit many times Scotland. We are planning our next trip in May and we have rented a little house in Ardmolich. Many of your songs are going over places that I have visited in the last couple of years. I have two cd's from you and I will buying the latest one that you have made. When I hear the music then I think over the holiday's that I have in Scotland.
Thanks for the beautiful music that you make.
Moira's video enchanted this enthusiast from New Zealand:
I have just arrived home from work to find an exciting little parcel arrive from Scotland. The video of Where Eagles Fly, Moira Kerr Sings. After a particularly stressful day at work, it was wonderful therapy for me to sit down and immediately fall back into the happy and relaxed feelings that I had when I visited Scotland last year, and to take your view of places that I had visited. Your country is beautiful. Your music is beautiful. Thank you!

I was introduced to your music by very dear friends in Cumnock Ayrshire, who have all your music. I purchased a couple of your CD's while I was there - naturally, "Where Eagles Fly", which is my treasure.

This video will be treasured, as are my CD's and you are sooooo right, Scotland IS Cool, and I don't mean the weather either. Even the weather was wonderful when I was there last summer - Scotland in August/September 2004 - Amazing!

It would be wonderful to think that one day you may bring your music and talent to New Zealand.
And here is an enthusiastic e-mail from Callum:
I've only just heard your music but already I'm a fan, I love you version of the Dark island as its my favourite Scottish song and its the first time I've ever heard a female sing it! You have such a peaceful yet at the same time powerful voice! An excellent combination which together with amazing songs has obviously paid off!
Another overseas fan wrote to Moira about her song "Island of Tiree" (beach on Tiree pictured here).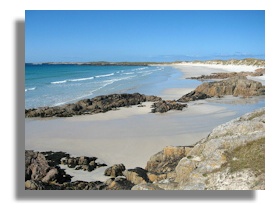 I`d just like to take the time to let you know that in my humble opinion, your Island of Tiree is the finest Scottish song ever written.... I heard it sung at a Scottish night I attended, and every male in my company had a tear in his eye. There`s just something about it!
Moira's participation in the McLean Highland Games in Carlisle, Pennsylvania, USA allowed her to meet fans old and new and some of them wrote to Moira afterwards. Here is a selection of comments:
My husband and I had the most delightful time at the Carlisle Scottish Festival. We really enjoyed your performance - you are a most delightful person and you have a gift from God with your voice.

I enjoyed your concert on at Carlisle Pa. It was well worth the six hour drive. I have ordered Loch Lomond Hills. Thanks again for the great show.
A group of Scottish Girl Guides, going to an International Guide camp at Lake Guelph Conservation Area, Ontario, were taking part in some international entertainment during one evening and wrote to ask if they could sing one of Moira's songs:
We have in mind singing your version of Highland Cathedral while one of our young women, who is a gold medalist Highland dancer, dances to the music. It is the most beautiful version of the song we have heard. We are training at a camp in Coupar Angus this weekend and I would like to use the music then. The girls have worked very hard over the last year and have raised almost £20,000 towards the trip and their excitement grows by the day.
After Moira's visit to Canada in July 2006, she received the following from an enthusiastic fan:
Just wanted to tell you how much we enjoyed your show at the United Church in Port Perry on Monday night and we are enjoying the couple of CD's which we bought from you while we were there. Hope you had a nice trip back home - I'm sure you are enjoying the cooler weather!


Another fan found that playing Moira's CD's was wonderful while on a trip to the north-west coast of Scotland:

Your CDs arrived in perfect time for our trip to Applecross. Not stopped playing Celtic Soul very loud throughout the house! We love 'Tiree', 'Lassie will ye go' and 'McIain' It's all wonderful stuff, love all of the tracks. Congratulations!




Here's an email from a fan in South Carolina, USA

A friend gave me some of your CDs and I have bought the rest. At least I think I have all of your CDs now.
I just wanted to tell you that when I am stressed or sad, I listen to your music and it always lifts my spirits and makes me feel happy. At age 67, I need a little help in that area, now and then. :-) I've thought about writing to you before now, but never did it. With three children and ten grandchildren, my life has been a bit on the hectic side.
Thank you for your music. I'm hoping that you have a beautiful Christmas.