Loch Lomond Hills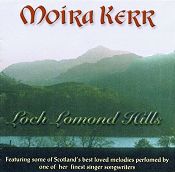 This album shows Moira at her lyrical, wistful, romantic best with a collection of her favourite Scottish and Irish songs - rounded off by Amazing Grace and a lovely rendition of "Highland Cathedral". This has new words written by Moira herself - click here to see them.
Last year, a fan wrote to Moira saying "until I heard you sing Loch Lomond it was just an ordinary song. I have never heard it sung so beautifully and it moves me to tears." This CD starts with that well-known song - and then takes us on an emotional journey to such places as the Cliffs of Duneen, the Cuillin of Skye and, of course, Loch Lomond Hills.
As a balance to the intensity of many of the songs, Moira has included a couple of tracks which allow her to display her sense of humour too, with "Whisky in the Jar" and a boisterous "Melville Castle".
Moira is singing better than ever and is accompanied by traditional and modern instrumental backing including acoustic guitar, fiddle, mandolin, harmonica - and the Scottish small pipes. The twelve tracks are:
Loch Lomond
Come By the Hills
The Call and the Answer
Whisky in the Jar
The Water is Wide
The Cliffs of Duneen
Cuillin of Skye
I Know Where I'm Going
Melville Castle
Loch Lomond Hills
Amazing Grace
Highland Cathedral
Ordering This CD From Moira Kerr

This CD can be obtained direct from Moira at a cost £11.99 including post and packing. An audio cassette version is also available for £8. All items obtained from Moira are signed personally by her on the CD or tape insert.
The CD can be obtained via our PayPal secure credit card service and sent anywhere in the world. Just click on the Paypal logo below.

Click Here to return to the list of CDs and Video.