Bravest Heart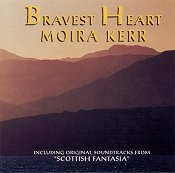 Moira was initially inspired to write the words and music for the song "Bravest Heart" by the history of not just William Wallace (of "Brave Heart fame) but also other Scottish heroes such as Robert the Bruce and Rob Roy MacGregor.
This very romantic CD includes songs of Gaelic and Irish origin, as well as Scottish. The playlist includes:
Bravest Heart (Words and music by Moira)
Corryvreckan (A large whirlpool, near Jura - Words and music by Moira Kerr)
She Moved Through The Fair (A haunting Irish song)
Only a Woman's Heart (Written by Irish singer Eleanor McEvoy)
Islands in the Mist (Words and music by Moira Kerr)
Fear A Bhata (A traditional Gaelic tune with new lyrics by Moira)
The Queen's Four Marys (The ladies in waiting to Mary Queen of Scots)
For Justice and Honour (Written by Moira about Rob Roy MacGregor)
Long Black Veil (Moira's new arrangement of a traditional Irish song)
House Carpenter (A traditional ballad)
Safely Ashore (Written by Moira, based on an old Gaelic song)
Highlanders (Written by Moira for the unknown heroes who fought for Scotland)
Ordering This CD From Moira Kerr

This CD can be obtained direct from Moira at a cost £11.99 including post and packing. An audio cassette version is also available for £8. All items obtained from Moira are signed personally by her on the CD or tape insert.
The CD can be obtained via our PayPal secure credit card service and sent anywhere in the world. Just click on the Paypal logo below.

Click Here to return to the list of CDs and Video.